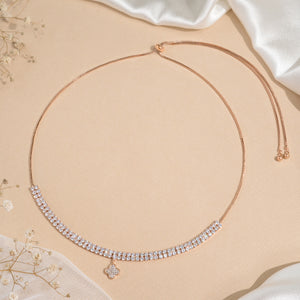 CWOG
Rose gold clover tennis choker
Diamond necklace that makes your woman shine. Gift this perfect, beautifully handcrafted diamond necklace for ladies and make them love you even more.
One of the most trending necklace designs that you will never want to miss out on. Designed to make you feel your very best, this American diamond necklace is a symbol of love, trust, beauty, grace and loyalty.
Let your neckline hold this dainty necklace. Make this necklace your companion to have the compliments all night long.
Style it up with any neckline and it shall bling your night out.

Product Maintenance,

1.These are intimate, delicate accessories and we advise you to refrain from wearing them in the shower and while engaging in outdoor activities/sports.
2. Daily-use substances like hairspray, lotion, perfume or other cosmetics contain chemicals that can permanently damage the surface of the gems.
3. Store your jewelry separately and in a box with safely padded slots or anti-tarnishing cloth.

Material - Alloy based metal with a flash plating of gold/ rose gold.

Delivery time - Delivery within 3 working days | Pan India.