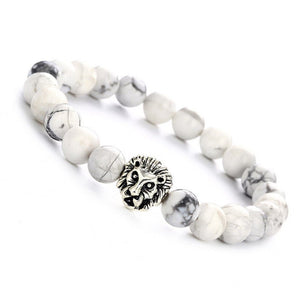 Colorful World Of Gems
Lion Charm Bracelet
Description -
This beautiful Lion Charm Bracelet is crafted with a lion charm and a howlite stone. Howlite is believed to promote patience and calmness, and its gentle energy is perfect for aiding emotional regulation and helping to express your feelings clearly. Let its energy guide you along your journey.

Elastic cord ensures a 

comfortable fit

 and 

lasting quality.

Available in two sizes.(Men & Women)

Natural Stones and Pure Gems with Healing Properties.
 Delivery time - Delivery within 3 working days | Pan India.