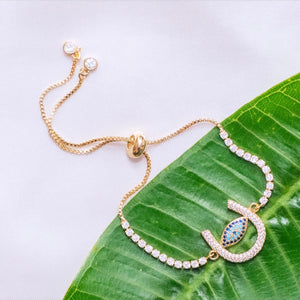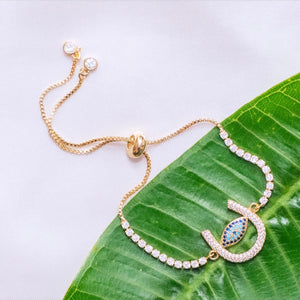 CWOG
Horse shoe shaped Gold Evil Eye Bracelet
A horseshoe-shaped evil gold eye bracelet is a timeless enamor of CWOG that blends itself with the horseshoe that attracts positive vibes and good charm.
Add a bohemian edge to any ensemble and elevate your everyday style.
This beautiful piece features scintillating crystals at the end, a studded horseshoe shape along with the evil eye charm.
Simply wear it with any outfit and exude a minimalist appeal to all around you. A wonderful gifting option for people you adore.
Product Maintenance,

1.These are intimate, delicate accessories and we advise you to refrain from wearing them in the shower and while engaging in outdoor activities/sports.
2. Daily-use substances like hairspray, lotion, perfume, or other cosmetics contain chemicals that can permanently damage the surface of the gems.
3. Store your jewelry separately and in a box with safely padded slots or anti-tarnishing cloth.

Material - Alloy-based metal with a flash plating of gold/ rose gold.

Delivery time - Delivery within 3 working days | Pan India.